Howard Finster was a preacher for 45 years until one day in 1976, he saw a vision of a face in the fingerprints on his thumb. The face spoke to him, he said, insisting that he paint 5,000 works of sacred art. Thus he began his paintings, usually on jigsawed figures ranging from Elvis, Leonardo de Vinci, model-T's and Coca Cola shrines, to self portraits with messages written in bright colors. Each finished piece was stamped with its number on the back and the time it was completed.
Finster also filled-in a two-and-a-half-acre swamp by himself. He then spent years making poetry out of rubbish, weaving his vision amid a jungle of berries and fruit. "One night I asked what I had preached on that morning and everybody forgot my message," he said. "And that's why I decided to build my garden, so they can't forget."
Finster has appeared on the Tonight Show, illustrated album covers for R.E.M. and Talking Heads, and has been featured on the cover of Time Magazine.

| | | |
| --- | --- | --- |
| | | |
| # 3397 Finster | # 3357 Finster | # 253 Finster |
| | | |
| #1982 Finster | # 3370 Finster | # 3039 Finster |
| | | |
| # 87 Finster | # 3349 Finster | # 254 Finster |
| # 3354 Finster | | |
| # 2564 Finster | # 829 Finster | # 3332 Finster |
| | | |
| | | |
| | | |
| | | |
| | | |
| | | |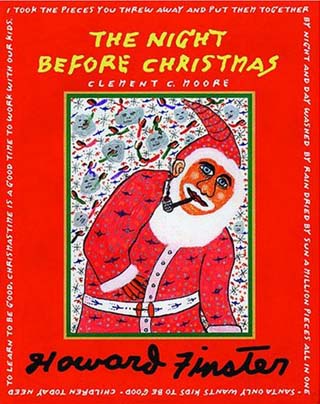 The Night Before Christmas
Howard Finster
Price: $22.00

Poem by Clement C. Moore, paintings by Howard Finster.
From the inside of the dust jacket.....

"Twas the night before Christmas, when all through the house, Not a creature was stirring, not even a mouse; The stocking were hung by the chimney with care, In Hope that St. Nicholas soon would be there....."

So begins Clement C. Moore's beloved Christmas classic, illustrated here with the mesmerizing art of Howard Finster.

Illustrated countless times through the years, this ballad by the nineteenth-century poet is now realized for the first time through the eyes of a popular twentieth-century folk artist. An artist with the gift of imagination for making the ordinary extraordinary. Finster transforms these familiar holiday verses with his unparalleled style and brings a fresh new vision to the classic tale.

Vivid paintings bring to life this story of the chance sighting of the world's best-loved gift giver - Santa Claus. Working in the folk-art tradition, Finster offers an original and exciting visual approach to the well-known Yuletide treasure and creates a fascinating union between the traditional and the uniquely contemporary.

For Finster's many fans and followers, this book is a showcase for his amazing talents and his positive, spiritual outlook on life. The self-taught folk artist and self-proclaimed Man of Visions who developed an international reputation for capturing divinely inspired images, in wood, in stone, and on glass (or any other handy medium), has now captured the magic of Christmas in twelve stunning illustrations.

A selection of inspirational messages that are always incorporated into Finster's art surround the poem, and a brief biography of Howard Finster follows the illustrations. Painting the illustrations for The Night Before Christmashas brought this eighty-year-old folk artist back in touch with his own childhood. From an eccentric, world-renowned visionary come pictures of an earlier, simpler time filled with wonder.

The Reverend Howard Finster dedicates the book with love to all children, Big and small, and his dream of restoring Paradise Garden, his outdoor museum in Summerville, Georgia - a true winter wonderland that attracts thousands of visitors every season of the year."

Howard Finster passed away in October of 2001 at the age of 84. His memory will live on forever in his art and in Paradise Garden in Summerville, Georgia, in the northwest corner of the state. This book is a true collectors item.

---

Copyright © 2000-2010 ANTON HAARDT GALLERY
All Rights Reserved.